Plantation Shutters Melbourne

"I have been marketing Plantations Shutters for close to 20 years. I believe in our product. Our Timber range is called Grangewood , it is a light hardwood. The product itself is produced under the kilned light conditions for eight weeks, it is dried to reach any resins and any oils. Paulownia is a lightweight hardwood that is laminated to release all the pressure, so it will not warp, twist or bend. It is then sanded and chromed for another three weeks. The next step is the five coats of paint which are solvent paints, this step gives our product a beautiful finish. They are fully adjustable. You'll let maximum light into your property and command minimum light outside. Your property looks beautiful not only from the inside, but it looks beautiful from the outside too with an enhancing effect. This is the most satisfying job I have ever had, witnessing the joy the product brings to all the customers when I have measured a job. Once I have sold the job I like to go back there afterwards, and it brings me a great feeling of pride when customers feel happy with the results. "
Plantation Shutters
Plantation shutters provide a classic serenity to any home, adding plantation shutters to your home will make an unbelievable difference and it is so easy to make that change. With a variety of colours and material Plantation Shutters can be used both inside and outside of the home in a variety of ways. They will filter the light, provide privacy and transform a room into a delightful area to spend your time at home. Although believed most commonly used in traditional homes, the new materials and variety of choice also lean toward use in contemporary homes.
ACA Home Improvements offer Plantation Shutters in timber (painted or stained), PVC or aluminium (internal and external). All our Plantation Shutters are customer made to suit your individual needs, including a choice of blade sized of 63mm, 89mm and114mm.
Our consultants and installers are top class and as our Plantation Shutters are custom made to your windows, the shutters are check measured to be sure when installed they are a perfect every time. With affordable payment options available the beauty of plantations shutters are available to everyone.
Plantation Shutter Ranges
Plantation Shutters include several ranges to suit any requirement. They can swing open, bi-fold or slide, making any window or door suitable for plantation shutters.
Unlike some of our competitors we are able to supply plantation shutters in various designs including;
• Circle
• Oval
• Arch
• Triangle
• Rake
• Architectural Shapes
Making bay windows, corner window and t-post able to be fitted with Plantation Shutters.
We also offer either centre tilt-rod opening or clear view, providing our customers with the choice of design. ACA offers a choice of 11 shades of white, black and 23 different stain colours.
Plantation Shutters Warranty
ACA Home Improvements Plantation shutters Melbourne are high quality and custom made to measure. We proudly back this up by giving you complete peace of mind with our 15-year warranty.
Light and Privacy
Plantation Shutters provide privacy to your room allowing filtered light in depending on your needs. Very effective in privacy for people living in high density living as they provide a stylish alternative. Privacy may also be necessary to prevent people seeing in your home, plantation shutters are ideal for those facing main walk ways or busy roads.
Environmentally Friendly Plantation Shutters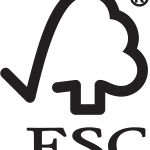 ACA Home Improvements use environmentally responsible forested wood which is backed by FSC certification. This certification acknowledges that the Paulonia timber used to manufacture our plantation shutters are provided by responsible foresting.
The Paulonia timber for our plantation shutters is treated to a conditioning process that includes painting, sanding, tempering and soaking. This process is repeated three times making the timber stronger and suitable to our weather conditions in Australia.
Plantation Shutters Testimonials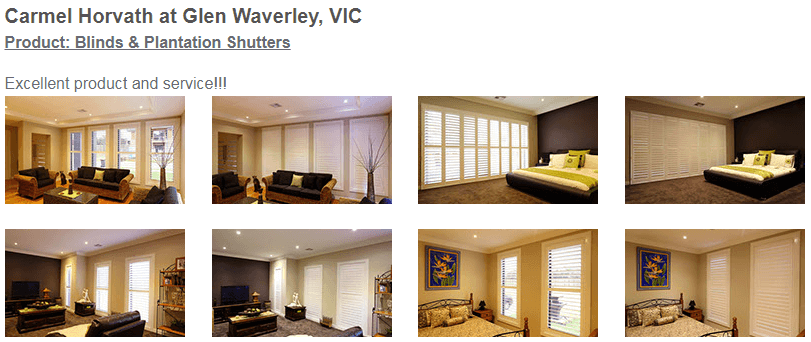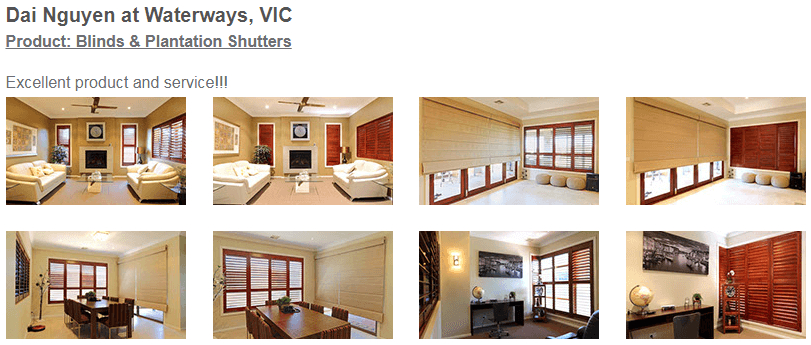 ACA Plantation Shutters are:
Manufactured in our own factory

Completely custom made – a perfect fit every time

Available with Finance Payment Terms

Priced ultra competitively
ACA Plantation Shutters offers:
Timber Plantation Shutters

PVC Plantation Shutters

Aluminum Plantation Shutters (internal &external)
ACA Plantation Shutters range includes:
Swing-Open Plantation Shutters (Window & Door)

Bi-Folding Plantation Shutters (Window & Door)

Sliding Plantation Shutters (Window & Door)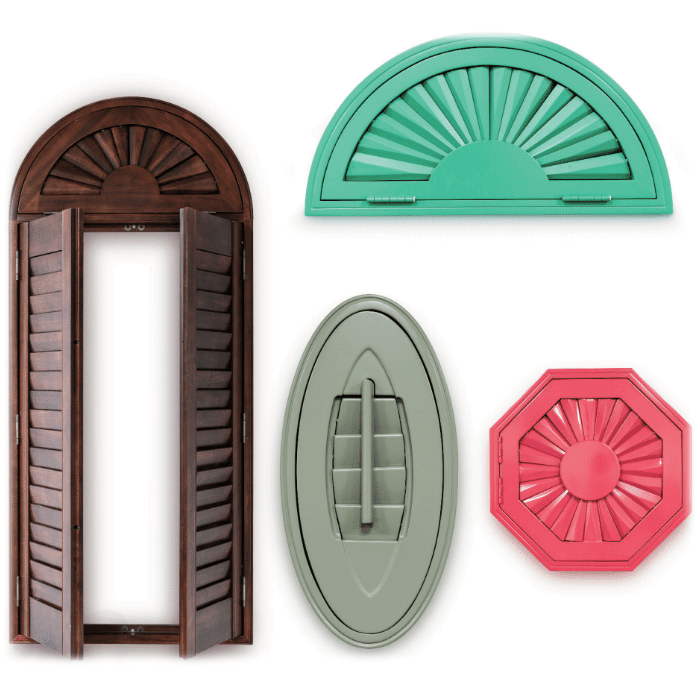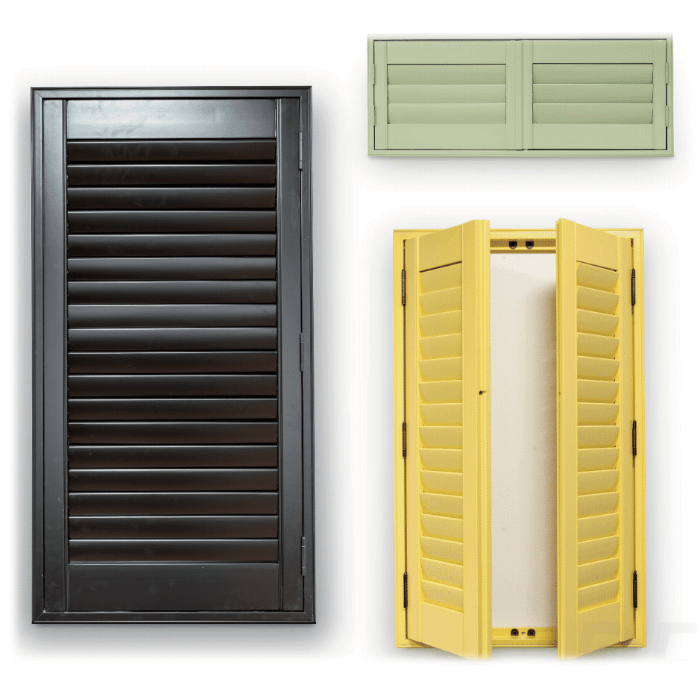 ACA Plantation Shutters design includes:
Circle, Oval, Arch, Triangle and Rake Plantation Shutters

Plantation Shutters for Bay Window, Corner Window, T-Posts
ACA Plantation Shutters offer different blades size:
47mm blade Plantation Shutters

69mm blade Plantation Shutters

89mm blade Plantation Shutters
ACA Plantation Shutters offer different opening:
Centre Tilt-rod Plantation Shutters

Clear-view Plantation Shutters
ACA Plantation Shutters offer different colors:
11 white colors Plantation Shutters

23 stain colors Plantation Shutters
Plantation Shutters FAQ
Are plantation shutters adjustable?

Plantation shutters allows the client to adjust the louvres to let natural light flow into the room and control how much light to let into the room as well as maintain the clients privacy. Clients also have the option to open the plantation shutters as they are hinged to the frame, to allow maximum light to enter the room.

How much light does plantation shutters block out?

Block-out light in the industry refers to the material not being translucent, for example plantation shutters when close create up to 90% darkness.

How does plantation shutters offer insulation?

Plantation Shutters offer insulation during the cool and warm months of the year, helping reduce heating and aircon cost. When the louvres are pointed upwards this allows the air to circulate in the room, great for winter. During summer if you position the louvers downwards this helps circulate the air flow to travels towards the ground, keep the fresh air moving as heat rises.

Do plantation shutters offer privacy?

Plantation Shutters offer the client control and privacy by adjusting the louver to their preferences while still allowing natural light inside during the day.

How to clean plantation shutters?

We recommend cleaning all plantation shutters with a synthetic feather duster and timber polish.

What timber are our planation shutter made of?

At ACA we use Paulownia timber. Paulownia timber is a light weight timber with it own character grain and approximately the same strength as Cedar. It is a balsa wood, very light and can be painted or stained and does not become oily. It is also extremely stable and termite resistant. All our paulownia timber planation shutters have been certified in accordance with the requirements of the Forest Stewardship Council.
ACA Home Improvements Plantation shutters Melbourne are high quality and custom made to measure. We proudly back this up by giving you complete peace of mind with our 15-year warranty.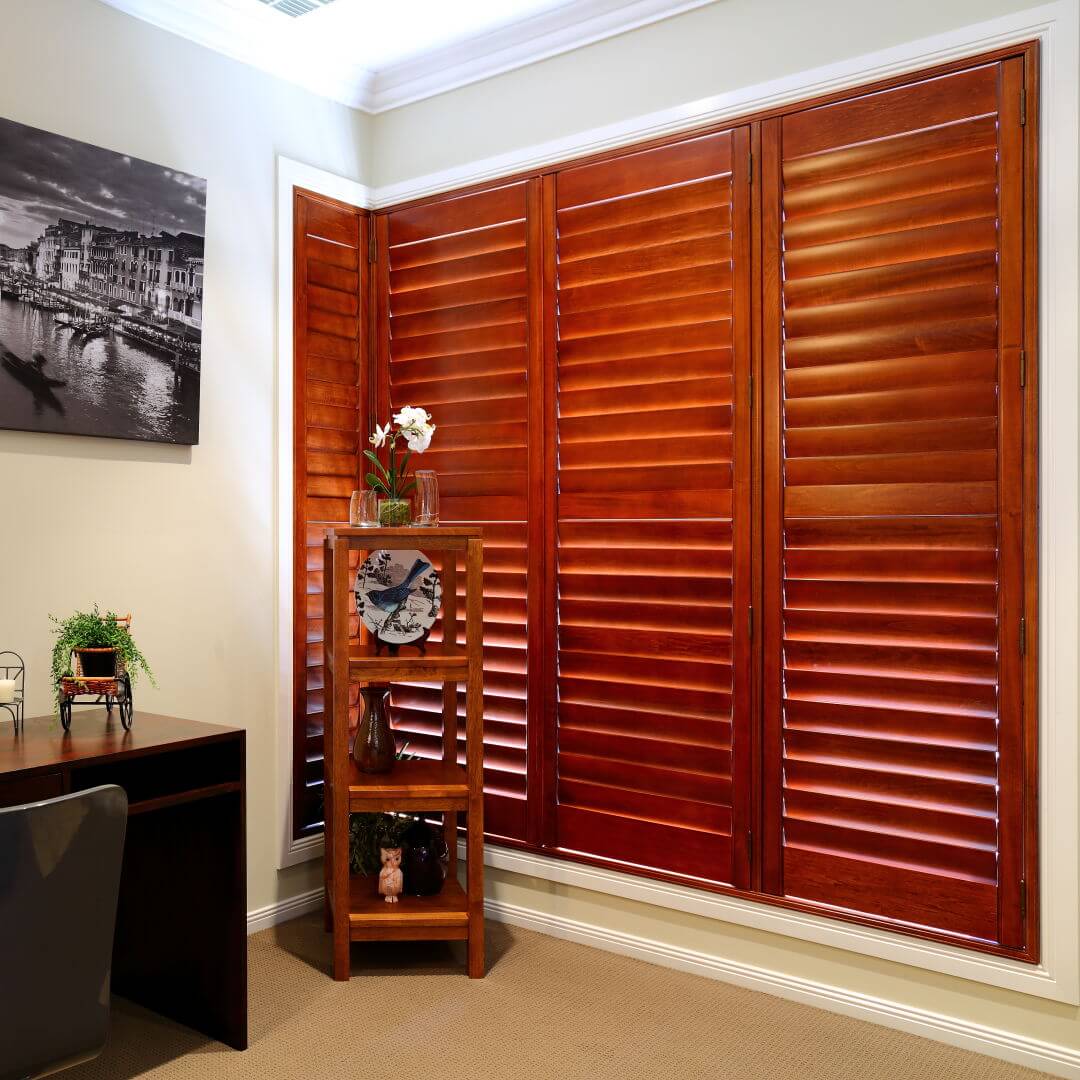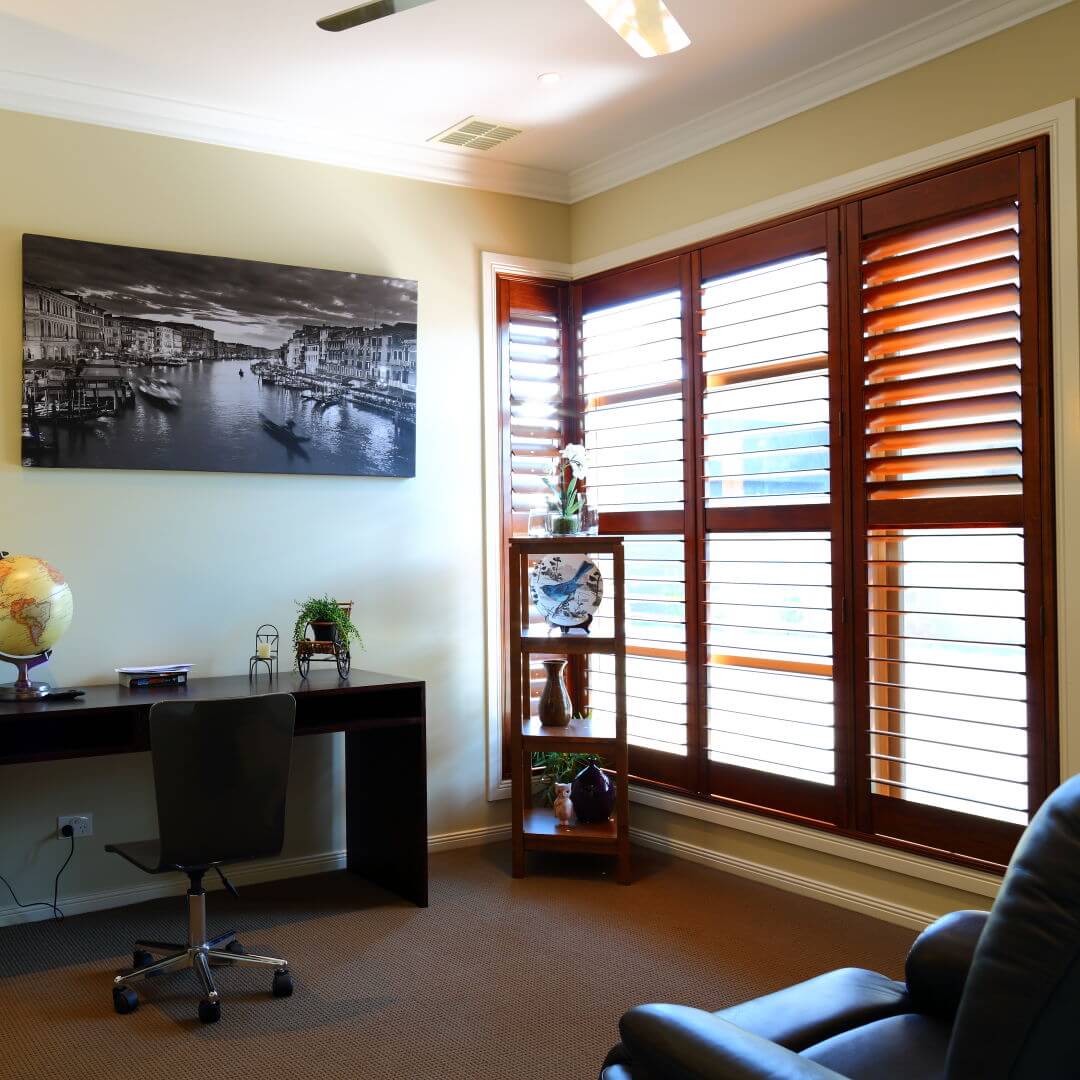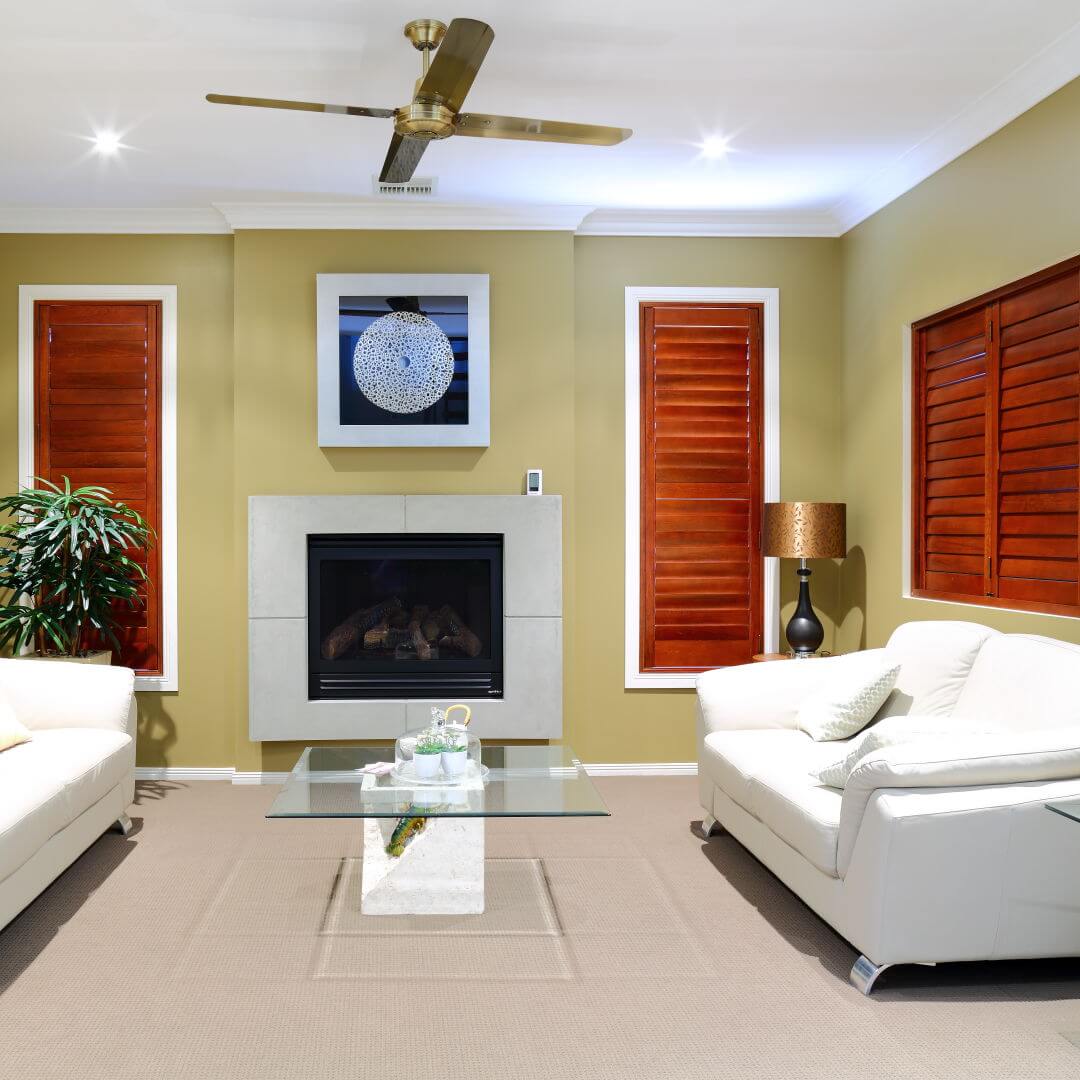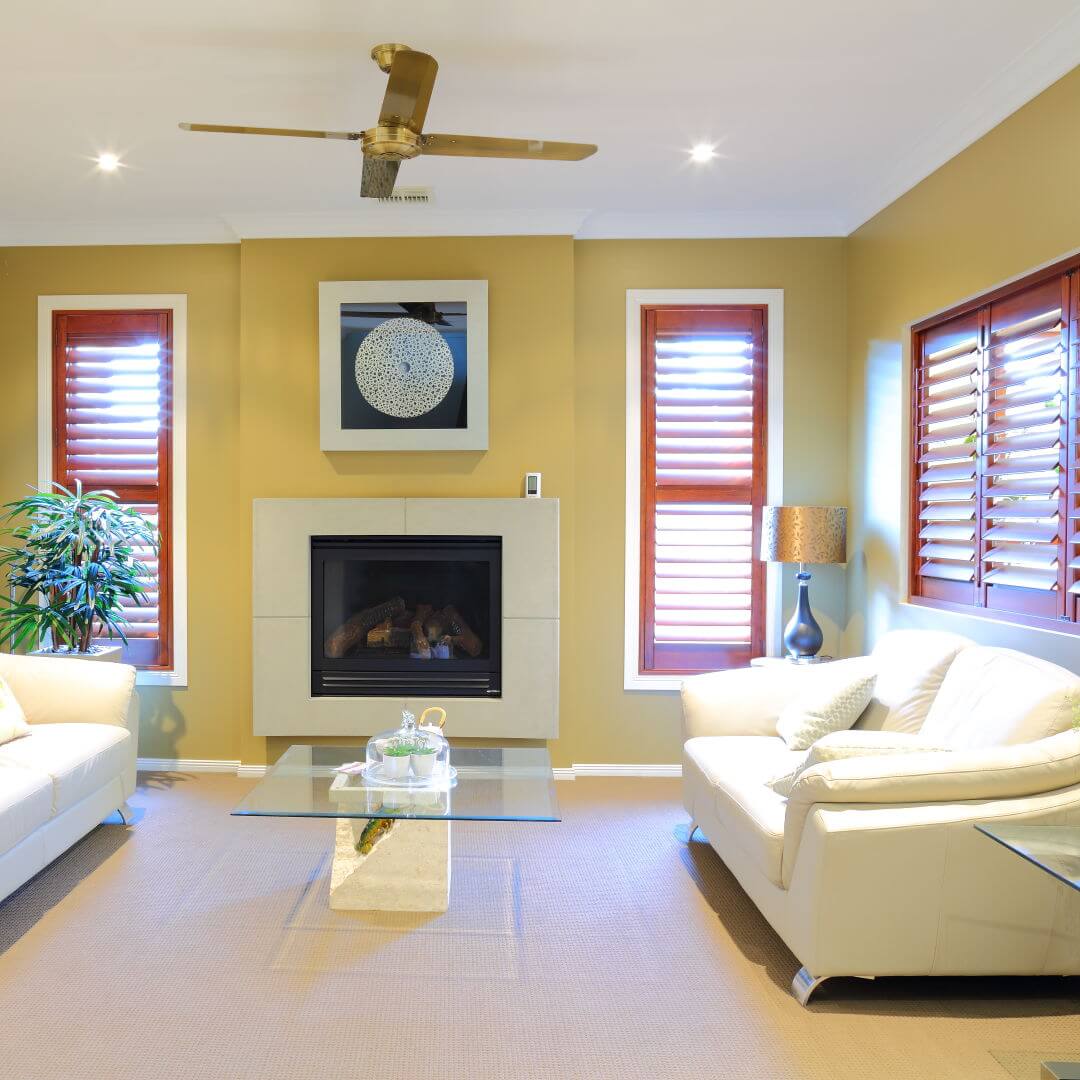 9 Good Reasons To Choose ACA Home Improvements for Plantation Shutters Melbourne
1. Our most qualified installation team will come to your home to complete both the check measure and installation. Our installation team is not just experienced in plantation shutters but also have been an excellent window installer for many years. Their knowledge of both windows and plantation shutters is invaluable.
2. Our friendly design consultant team come with an average of over 20 years' experience within our industry.
3. We have a serious business interest in our overseas factory, allowing ACA to have significant control of manufacture quality and delivery time.
4. We are able to offer a large variety of different shape shutters to suit your needs and hundreds of different colours to choose from to meet any special design requirement.
5. All our plantation shutters are FSC certified. Meaning the timber is responsibly forested.
6. Our service manager follows up every order after installation to confirm a pleasant experience and 100% satisfaction.
7. The painting process for our plantation shutters has been tested to withstand the harsh Australian weather. This eliminates unreasonable colour fading due to sun.
8. ACA insist on a final quality control check to be performed prior to any plantation shutters being loaded into the container prior to sail. Just to ensure that everything is perfect.
9. We are very proud our prices always remain very competitive. We have a vested in the factory oversea which means there is no middle man to push our cost up. We are happy to give that benefit to our customer thus making our price extremely competitive.